Cosmetic Dentistry in Easton, MD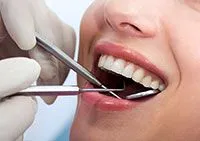 People choose cosmetic dental procedures for various reasons – to repair a defect such as a malformed bite or crooked teeth, treat an injury, or just improve their overall appearance. For these and many other reasons, cosmetic dentistry has become a vital and important part of the dental profession and one of the fastest growing areas of dentistry. For example, tooth-whitening procedures have tripled over the past five years.

Common cosmetic dental procedures can be performed to correct misshaped, discolored, chipped or missing teeth. It also can be used to change the overall shape of teeth – from teeth that are too long or short, have gaps, or simply need to be reshaped.
Cosmetic dentistry procedures include:
Looking for a long term tooth replacement?
Call our Easton, MD office at (410) 770-9211 to find out if Dental Implants are right for you!